Indexed in Clarivate Analytics Emerging Sources Citation Index
(Thomson Reuters Emerging Sources Citation Index)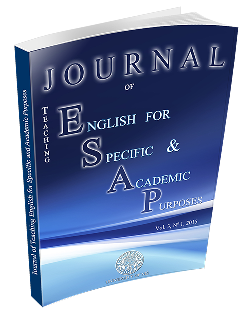 AIMS AND SCOPE
Journal of Teaching English for Specific and Academic Purposes is a quarterly, open-access, peer-reviewed journal published by the University of Niš, Serbia. The principal aim of the journal is to present the latest theoretical and research developments in English for Specific Purposes, English for Academic Purposes, Applied Linguistics. We welcome submission of scholarly articles dealing with specificities of teaching and learning domain discourses, strategies and techniques in mapping needs analysis, curriculum and material development, assessment issues, discourse analysis, formats of academic writing, use of language learning technologies, language education policy. This journal also invites relevant book reviews and/or presentations, conference calls, interviews with outstanding experts.


SUBMISSION GUIDELINESS

Authors wishing to submit a manuscript should first format their paper according to our template, register (mark reader and author role), log in, and upload (submit) the paper. Along with it they should sign and upload the letter of submission confirming the originality of the work, as well as compose and upload a bio-note of each author. Letter of submission and bio-note should be uploaded as supplementary files. Papers without any of these are considered incomplete submissions and will not be eligible for inspection.
The paper first undergoes preliminary revision to decide if its content is within the scope of the journal. Following that stage its blinded version is sent for review to two independent reviewers, experts in the field. Final decision upon possible publication of the submitted paper is reached on the mutual consent of the two reviewers and the editor.
All papers are run through plagiarism prevention software.


Vol. 7, No 4, 2019
Table of Contents
Petersburg
| | | |
| --- | --- | --- |
| | Svetlana Rubtsova, Nadežda Stojković | i-i |
| | | |
| --- | --- | --- |
| | Elena A. Bugreeva | 413-421 |
| | | |
| --- | --- | --- |
| | Ivan Grigoriev, Alexandra Sokolova | 423-430 |
| | | |
| --- | --- | --- |
| | Polina Alexandrovna Vasileva, Vadim Yurevich Golubev | 431-442 |
| | | |
| --- | --- | --- |
| | Gabriela Chmelíková, Ľudmila Hurajová | 443-452 |
| | | |
| --- | --- | --- |
| | Vadim Golubev, Alla Teplyashina | 453-462 |
| | | |
| --- | --- | --- |
| | Svetlana Yurievna Rubtsova | 463-472 |
| | | |
| --- | --- | --- |
| | Elena Valerievna Carter | 473-482 |
| | | |
| --- | --- | --- |
| | Olga Vladimirovna Glukhova, Tatyana Vsevolodovna Evsyukova | 483-491 |
| | | |
| --- | --- | --- |
| | Irina Ubozhenko, Zihao Zhang | 493-503 |
| | | |
| --- | --- | --- |
| | Elena Yurevna Balashova, Olga Vladimirovna Nagoga, Elena Anatolyevna Makshantseva | 505-516 |
| | | |
| --- | --- | --- |
| | Tatyana Dobrova, Svetlana Rubtsova, Maria Kopylovskaya, Liu Changyuan | 517-530 |
| | | |
| --- | --- | --- |
| | Nadezhda Emelianova | 545-556 |
| | | |
| --- | --- | --- |
| | Svetlana Yurievna Rubtsova, Ksenia Anisimova, Mikhail Demidoff | 557-572 |
| | | |
| --- | --- | --- |
| | Lilia Timofeeva, Tamara Potapova | 573-584 |